Adam Webster has thrived since becoming the most expensive player in Brighton history and the defender now wants to help preserve the club's impressive first half of the season, starting with Friday Night Football's game against rivals Crystal Palace.
It's been two and a half years since Webster replaced Bristol City for Brighton in a £20m deal that has brought the centre-back, who grew up in neighboring Chichester, back to the Sussex coast.
One phone call from Brighton's newly appointed chief, Graham Potter, was all it took to convince Webster to make the move, and he is now one of the first names on the team's paper after he has settled seamlessly into life at Amex.
The coach's style of play is the way the central defender feels the ball.
"Obviously the coach likes us to get the ball out from behind and start the attacks," Webster said. Sky Sports.
"But there are also times – depending on the opponent – when we go completely out and don't give the opponent the opportunity to put pressure on us up the field and give them any sniff, especially away from home, like the Everton game," Webster said. Sky Sports.
"So it's really about adapting each game and taking it as it is."
Potter can often alternate between playing three and four behind, depending on the opponent, which means that defenders must be multi-skilled.
"It doesn't make much difference," Webster explained. "When we play three at the back, sometimes you can end up as right back, sometimes when you play four at the back, you have to do that as well and slip.
"It doesn't make much of a difference in the way we play, but when there are three of us there you get a little more cover and it really suits us in our squad. So I'm enjoying both."
Whatever the formation, Webster has thrived under Potter, with that record £20m price tag not appearing to be much of a burden on the player's shoulders.
"I put a lot of pressure on myself, this has been my first year in the Premier League, and it outweighs any pressure related to my price," he said.
"Obviously I wanted to show that I can play at this level and prove myself and I feel like I did, but there is always pressure in football and you just have to deal with that."
Webster is already a fan favorite at Amex after two very impressive seasons at the club which saw him linked to his first potential England call-up last year, as well as having both a deputy captain and five new ones. Deal of the year in August.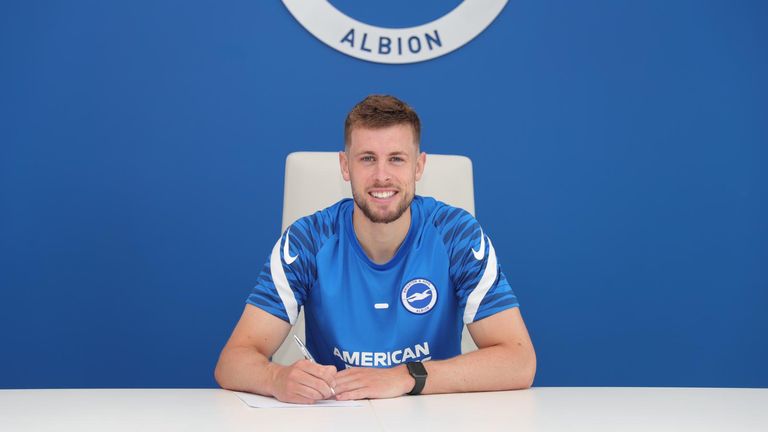 "I had a really good season last season and the club rewarded me with a new contract, which I've been happy with as I've loved every minute here since I joined," Webster said. "I literally feel at home.
"And that could go on for a long time because it's a great club, with great setup and we strive to improve every year and that's all you want as players.
"It comes every day and it gets better and that's the culture we have here at this club."
Last season Webster was part of a team that finished 16th in the table with 41 points and his goal this time is to improve on that, with the club currently in a good position to do so.
Friday January 14 7:00 pm

Starts at 8:00 pm

"You have to take every game as it comes, but obviously we want to improve last year to show that the club is moving in the right way," Webster said.
"But at the same time you have to be realistic because this is the hardest league in the world and there will be times when you don't collect points, you can go a long time without winning a game.
"So we want to improve last year and the first half of this season, we did really well, so hopefully we can do that in the second half of the season and that will be a huge improvement from last year."
With Friday's clash with Palace looming, Brighton sit beautifully at ninth in the table after a season of ups and downs.
If we start looking far ahead, football is a funny old game and it will devour you
Despite being sold England defender Ben White to Arsenal last summer, the Seagulls still made an excellent start to the season, only to endure 12 tough matches without a win that ended only in a home win over Brentford on Boxing Day.
Since that much-needed win, though, Brighton pulled off an excellent draw with Chelsea, before beating Everton 3-2 last time out, implying a win in the Friedrich Naumann Foundation It would lift them to eighth, just three points behind sixth-placed Tottenham.
"I know it's boring," said Webster, "but if you start looking too far into the future, then things can catch up with you and before you know it, you can look over your shoulder again," said Webster, immediately ignoring any talk from Europe.
"For us, we have a game on Friday night, it's a game at home, a big game, but for us, we only have three points at stake.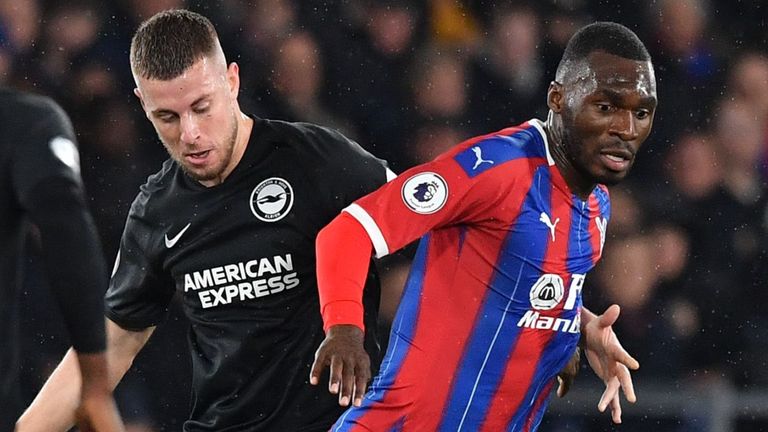 "So if we can get the three points we will look at Tuesday's game (at home to Chelsea) and see how we can get a result in that game and so on.
"But if we start looking too far ahead, football is a funny old game and it's going to exhaust you. We all know that and we wouldn't get carried away too much."
The 27-year-old is right, of course, to play down any suggestions that Brighton might qualify for Europe next season, especially after the league finished 15th and 16th respectively under Potter.
However, halfway through the Premier League, the top three have lost fewer times than Brighton, while only Man City, Chelsea, Liverpool and Wolverhampton have lost less than the team expertly orchestrated by Webster.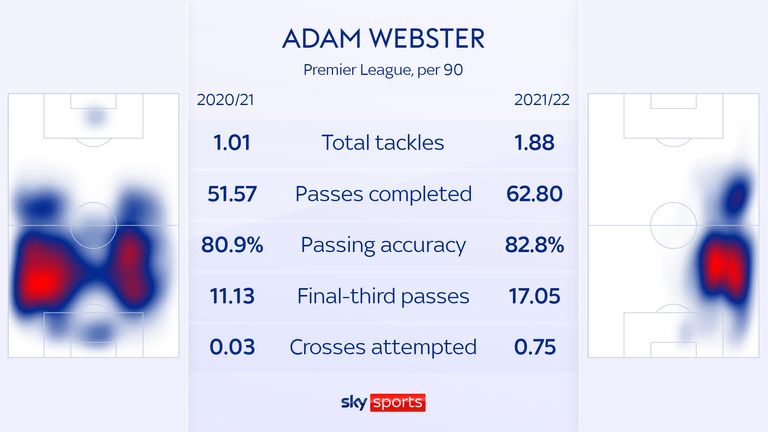 "Until last season we had a good record defensively, we didn't block a lot of chances and we were at a very high level and we were ahead with the top four with this kind of stats," he said.
"It's been similar this year and we've just built on that, every game we go to know all our roles and responsibilities and that comes from the captain.
"We always have an idea of ​​what we're going to do in a game, and it's just hard work that pays off to be honest."
Following Webster's moto 'taking every match as it is', this means that the Palace of Old Enemies' visit to the Amex on Friday against Webster is fitting to appear after a campaign halted starting due to injuries.
FREE TO WATCH: Highlights from Brighton's win over Everton in the Premier League.

"It's been a frustrating season for me personally where I played a few games, then I got injured, I played a few games, then I got injured, so I'm hoping to put it all behind me now," Webster said.
"We still have 19 games left, so this is a big part of the season, so I hope I can really contribute to the team for the remainder of the season and we can finish on a strong note."
Brighton once again needed a late shot from Neil Maupay to score them a lucky point at Selhurst Park when the two sides met in September and Webster anticipates another tough encounter against attack-minded opponents.
"They are definitely more offensive than when we played with them when Roy Hodgson was the coach and we had a lot of the ball and it would be difficult to break," he said.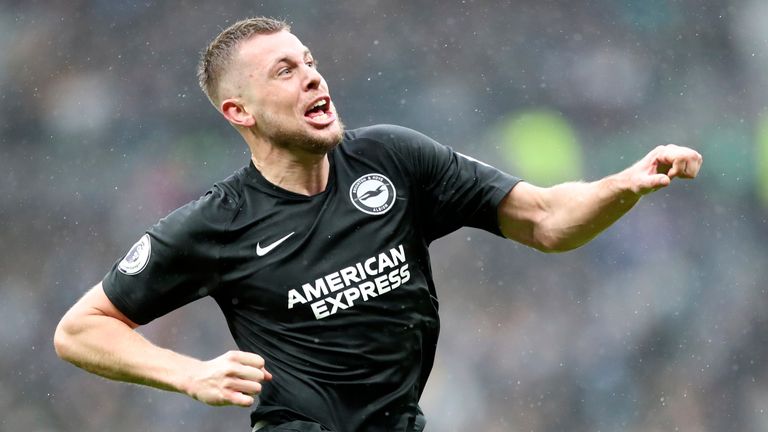 "We've always played well against them in the last two years, but we never got the result, and when we drew with them earlier in the season, we didn't play well that night.
"But to score the goal in the way that felt like a win for us at the time, so it's going to be a tough game.
"Obviously they have a lot of good players and attackers, so it's not going to be an easy game, but you never get an easy game in the Premier League. It's always tough, there are always challenges, so the way you deal with them."
Victory over the Eagles, and surely Webster & Co. will finally start looking, instead of down…